Premio Atleta Dell'Anno 2014 No-Gi – FIGMMA
Grappling Verona
Il 24 maggio il Prof. Marcel Leteri Sasso Oliveira sarà a Ostia per partecipare al Campionato Italiano di Grappling / No-Gi – FIGMMA, sarà la sua decima partecipazione nelle gare di Serie A e proverà ad arrivare all'impressionante numero di dieci titoli su dieci presenze alle gare nazionali FIGMMA (Camp. Italiano e Coppa Italia).
In questa edizione del Camp. Italiano, il nostro cintura nera instancabile sarà impegnato anche nel difficile ruolo di arbitro.
Durante la manifestazione si svolgerà la cerimonia di premiazione degli atleti vincitori del premio "Athlete of the Year 2014" per la disciplina del Grappling / No-Gi.
Grazie ai suoi grandi risultati al Mondiale in Russia, Marcel che insegna Grappling a Verona, si è aggiudicato il premio tra gli atleti della nazionale azzurra. Tra le donne, invece le premiate sono Petrucci Pamela e Baraccani Martina.
Il 23 maggio il Prof. Marcel, terrà un lezione aperta a tutti gli appassionati di Brazilian Jiu Jitsu presso la palestra Redemption Jiu Jitsu Italia di Victor Hugo.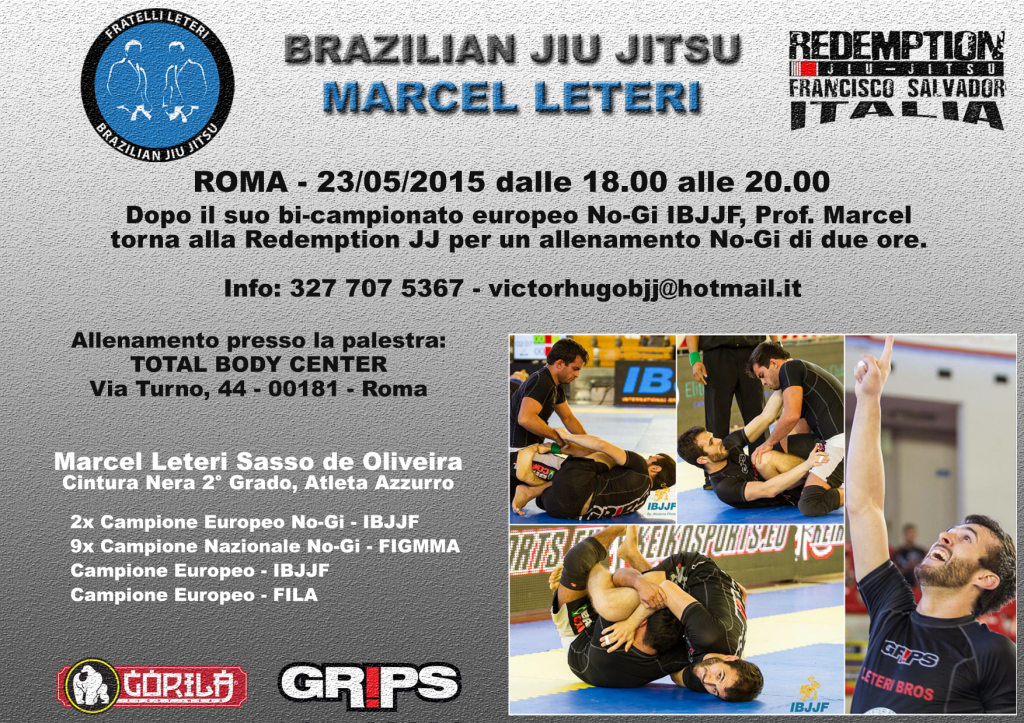 Brazilian Jiu Jitsu Grappling Verona