Marcel Leteri Sasso de Oliveira is a 3rd Degree Brazilian Jiu-Jitsu Black Belt from São Paulo, Brazil. He is BJJ Coach, Referee and Athlete.
Nationality: Brazilian-Italian / City of Residence: Melbourne – Australia.
Competitor Weight Division: 64/70 kg
Team / Affiliation: Cia Paulista International / Cia Paulista Australia
Co-Founder of Leteri Bros Brazilian Jiu-Jitsu (Italy and Brazil)
Other Disciplines / Martial Arts:
No-Gi, Grappling, Submission Grappling, Self-Defense.
Academic Education:
Bachelor of Computer Science – São Paulo (BRA) – 2002
Vocational Education and Training (VET):
Fitness Instructor – Certificate III (SIS30315) – Melbourne (AUS) – 2017
Personal Trainer – Certificate IV (SIS40215) – Melbourne (AUS) – 2018
Diploma of Sport & Recreation Management – SIS50155 (AUS) – 2019
Languages: Portuguese (native), Italian, English
Marcel Leteri Sasso de Oliveira
is a World-Class 3rd Degree Jiu-Jitsu Black Belt from
São Paulo
, Brazil. He currently teaches in Australia. He began his training in BJJ in 1997 and received his Black Belt in 2007 from Professor
Rick Kowarick
of Cia Paulista Jiu Jitsu.
Most recently, he participated in the 2019 Australian National Championships, where he refereed, coached, and competed to retain his title of Australian National Champion for the third year in a row. He is now ranked as the #1 Master Black Belt in Gi and No-Gi throughout the entire Australia.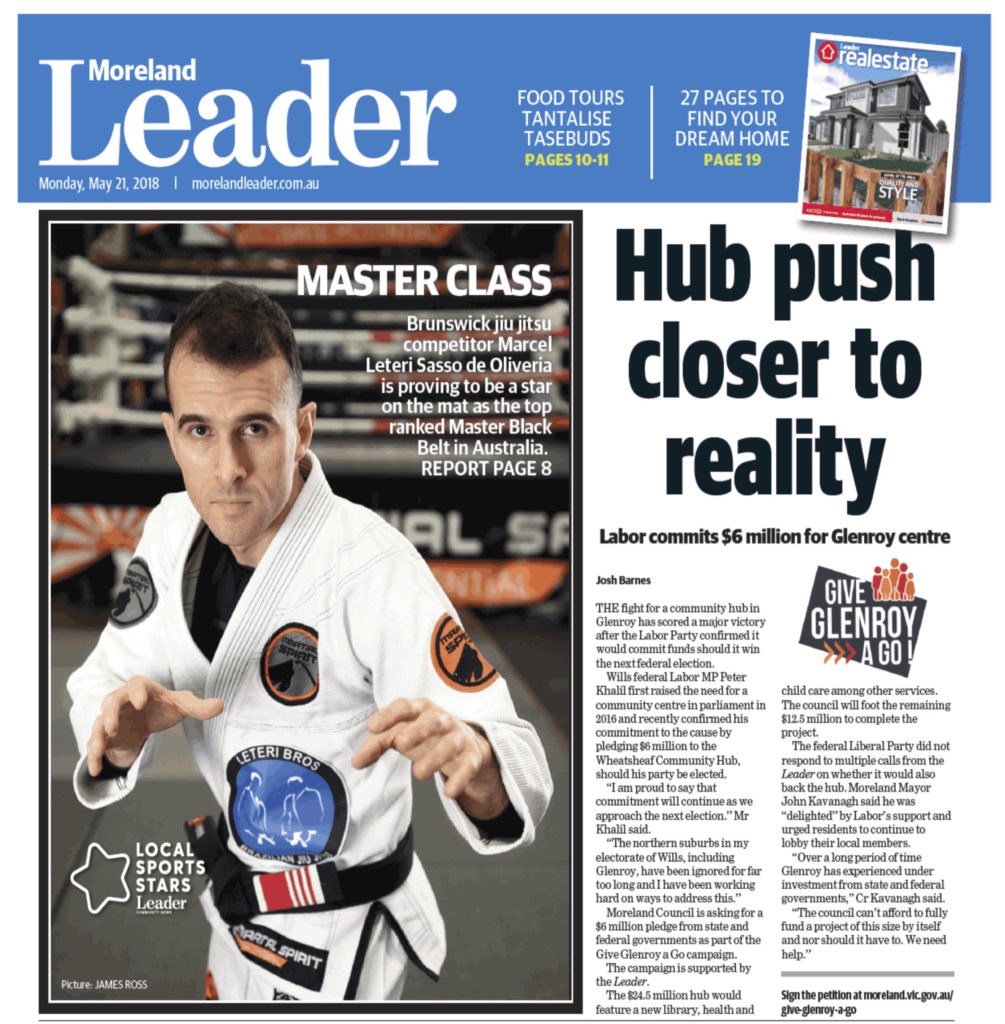 At the end of 2017, he participated in two of the most prestigious competitions in Australia, the 2017 IBJJF Pan Pacific Jiu-Jitsu Gi and No-Gi, and the 2017 Australia National Jiu-Jitsu, winning Gold medals in both Gi and No-Gi at the Pan Pacific Championship, and again Gold medal at the Australia National despite fighting one division above his usual weight division. He also refereed in both competitions over the course of all the days it was held.
Marcel born November 19, 1980, in São Paulo, Brazil, is a Brazilian Jiu-Jitsu fighter, professor (coach) and referee. His family moved to
Casa Branca
, a small city in the countryside, when he was a child. In 1997, after trying a class with his classmates, Marcel began training with Rodrigo Serafin with whom he trained until he was a 4th-degree white belt before moving to São Paulo where he joined the Cia Paulista team. There, he trained under Ernesto Bueno Garcia "Giggio" for a short time before beginning to train under head coach Professor Rick Kowarick (one of the founding members of the team) who promoted him in all his belts. Today, Marcel is a black belt, 3rd degree with 20 years of experience in the sport, and still remains closely affiliated with Professor Rick Kowarick and the Cia Paulista team.
While he was a white and blue belt, Marcel competed frequently, winning medals in every competition he participated in. In 2002, he qualified as one of the top 4 blue belts in São Paulo, earning him a spot as one of the top 16 in the world and a chance to compete at the
IBJJF
World Championships in Rio de Janeiro. As a purple and brown belt he was unable to compete as much as before due to work and university commitments, however, he continued to train on a regular basis. During this time, he graduated from Ibirapuera University with a Bachelor of Computer Science.
Although he was unable to dedicate himself to Jiu-Jitsu full time at that point, he continued to compete as often as possible, winning many titles such as 3x IBJJF European Champion (2013 Gi / 2014-15 No-Gi), 2nd in the IBJJF World Master 2013.
Marcel also holds the record of the most number of times representing the Italian National team ever in Worlds and European championships.
Since then, he has contributed greatly to the growth of BJJ in Italy and Europe, holding seminars all over Italy and Europe and refereeing for various competitions internationally. He has also coached several beginners who later went on to become Italian National champions, and some students who medalled in major competitions such as IBJJF World Masters and IBJJF European Championship. Today, the team continues to run in Italy, now led by one of his students (Matteo Cazzola). Marcel has worked and shared his talent holding seminars and running classes in various countries such as Brazil, Italy, USA, Portugal, Poland, and UAE just to name a few, and has now expanded to Australia. In 2016, supported by Coach
Carlos "Português" Vieira
 and 
Cia Paulista Australia
, he moved to Australia to study English and Fitness and Sport to better improve his coaching, as his dream is to dedicate himself full-time to Brazilian Jiu Jitsu and sport-related activities. While here, he has continued spreading his knowledge of Brazilian Jiu Jitsu, and taken an active role in contributing and helping to grow the Brazilian Jiu Jitsu community in Australia.